Want to save money? Your co-op membership offers the free Co-op Connections Card!
Benefits include:
Healthy Savings Discounts
Touchstone Energy Cooperatives' Co-op Connections® Program helps you save more and live healthier every day! Our highly successful prescription discount offer is now joined by discounts on dental, vision, hearing, lab work & imaging and chiropractor visits. Best of all, you get all these great benefits for FREE!
Co-op Local Deals
Enjoy the incredible local discounts at restaurants, automotive, shopping, attractions, and services.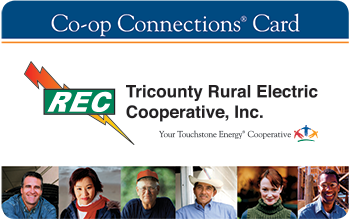 Hotel Savings
Save an average of 20% at over 400,000 locations worldwide. 
Cash Back Mall
Earn up to 20% cash back when you shop at over 2,000 online retailers. 
Event Tickets
Save 10% at your favorite sporting events, concerts and theaters. 
Insurance
Save money by getting competitive insurance products. 
National Discounts
Enjoy a wide variety of discounts that will save you lots of money. 
Contact Tricounty Rural Electric Cooperative to receive your Co-op Connections card. If you don't want to use a physical card or want to search all the deals available, create your online Co-op Connections account at the Co-op Connections website.