Tricounty Rural Electric Cooperative's 86th Annual Meeting was held virtually on Wednesday, Sept. 20. Board election results were announced, with one board member being re-elected and a new one joining.
Election results:
District 1 trustee winner: Incumbent Marvin Green (representing Dover, Pike, Fulton, York, and part of Swan Creek Townships in Fulton County.)
District 6 trustee winner: Ted Guelde (representing Damascus, Richfield, and Bartlow Townships in Henry County and Grand Rapids, Milton, and Weston Townships in Wood County.)
This year's trustee elections were conducted by mail and allowed for electronic voting through Tricounty's website. Voting ran from Aug. 1 through Aug. 31 and was conducted by a third-party company called Survey and Ballot Systems —Tricounty REC thanks former Trustee Kenneth Brubaker, who retired from the board, for his service to the co-op.
Members who watched the meeting heard about the co-op's financial standing and reports from co-op management recapping the cooperative's activities this past year. Board President Marvin Green detailed the over $1 million spent in distribution line maintenance and substation upgrades to keep the co-op's system running smoothly and "to provide members with reliable electric service."
However, power reliability is at risk, according to CEO Brett Perkins and Buckeye Power President Pat O' Loughlin. Demand for electricity is higher than ever, especially during extreme cold and hot weather. Supply for electricity is also down, with the retirement of coal and nuclear baseload plants.
In 2009, Ohio had 21 coal plants. By the end of 2023, just 4 will remain. 
"Intermittent sources like wind and solar are not reliable 24/7/365," Perkins said. "There are overreaching, unreasonable environmental regulations with minimal impact and high costs and poorly designed electricity market rules."
The North American Electric Reliability Corporation (NERC) and PJM Interconnection, which manages Ohio's grid, have both published reports of concerning trends causing increased reliability risks. Both say that the risk of rolling blackouts are inevitable without an immediate change in energy policy. 
The co-op asks for members help by reaching out to your elected officials and informing them you support common sense energy policy. The public can send a digital message by using the Voices for Cooperative Power form online here.
Costs continue to rise, especially considering long lead times on materials. For example, in 2021, the new transformer Tricounty purchased for its Delta substation cost $340,000. This same transformer in 2023, needed for a substation rebuild, is $645,000 -- a 90% increase in cost. As such, a rate adjustment was "a difficult but necessary decision."
Effective Sept. 1 was a rate adjustment of about 1 cent per kilowatt-hour and a $2 increase to the monthly facility charge. This equates to about an 8% overall increase, or about $12 for the average member each month.
We strive to keep our rates competitive while balancing these ever-rising expenses and meeting financial targets required from our financial partners," said CEO Brett Perkins during the meeting. "Tricounty is still one of the lowest-costing electric cooperatives in Ohio."
The board also announced a $567,000 capital credits retirement to current and former members this December 2023. As a not-for-profit utility, the co-op operates at cost and returns any profit (or margin) after expenses are paid back to the member-owners based on their annual electric use.
Since 1950, Tricounty REC has returned over $22.1 million to its member-owners via capital credits.
More information, including financials, is available below. Please give our office a call with any questions. Thanks for being a member of your community cooperative!
Since the inception of Tricounty in 1936, an annual meeting of members has occurred each year. The annual meeting is designed for the members to hear reports from the board and management regarding the affairs of their cooperative. The board has once again made the decision to host the 86th Annual Meeting of Members virtually.

We feel it is important for the board to be available to the members. On July 22, Tricounty held its second member appreciation day at Sauder Village in Archbold, Ohio. We had exceptional weather and excellent attendance, and everyone enjoyed the day. Thank you to those who attended and made our day so successful.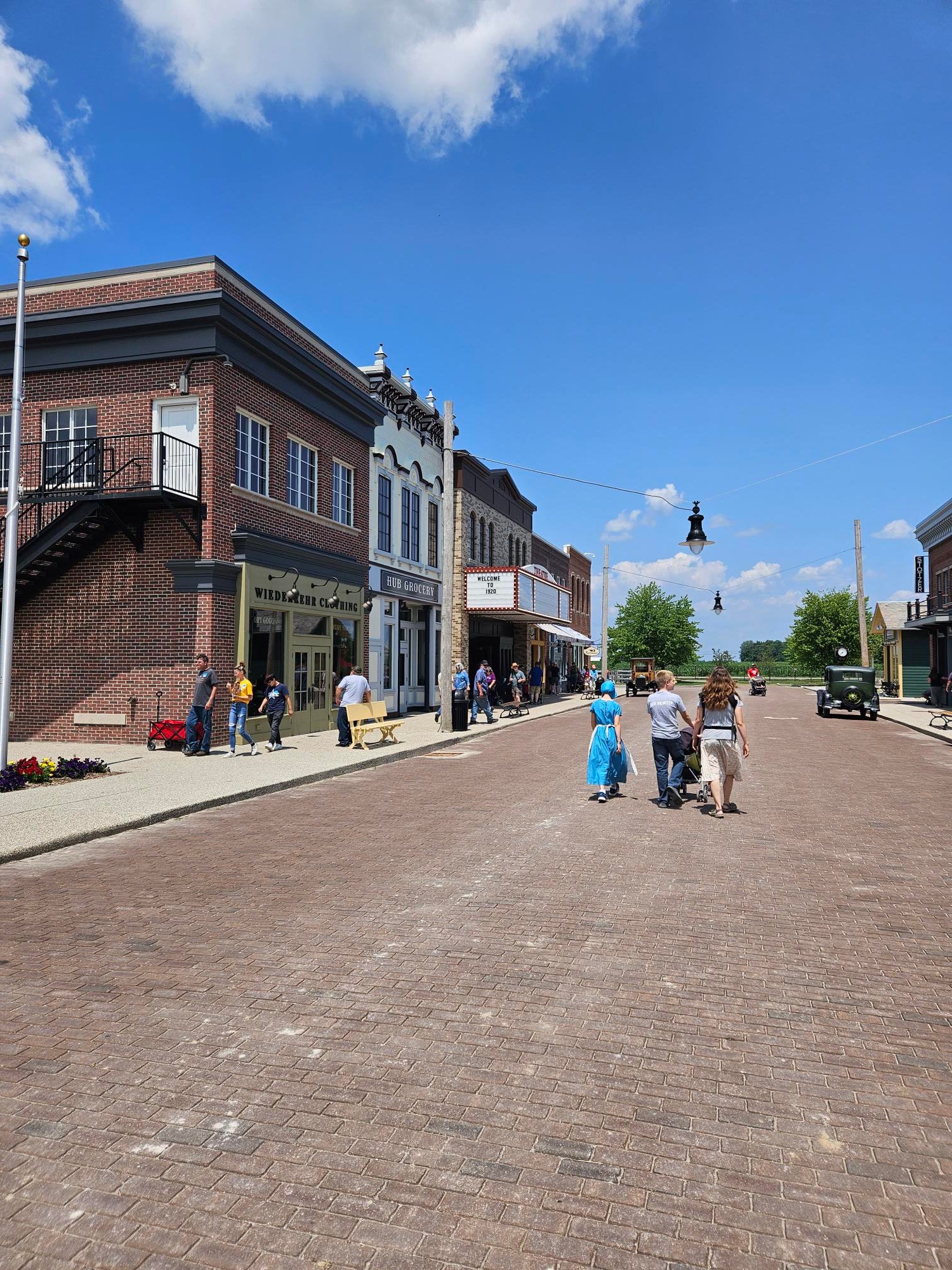 Financial condition
We are pleased to present you with another positive report on the financial condition and operation of your cooperative this past year. Part of the margin generated by your cooperative was used to make a capital credits retirement again this year. Your capital credits account is a benefit that is exclusive to electric cooperative member-owners. The board approved retirement of $580,808 in patronage capital last December. This retirement was 60% of the 2004 allocation, plus 10% of the 2021 allocation. It was made to current and former members, and was the 45th consecutive general retirement of capital credits made by Tricounty. In addition, $267,149 was paid to deceased members' estates during the year. Including this $847,957 from the past year, Tricounty has returned more than $21 million in capital credits to our member-owners. The total assets of your cooperative now exceed $22.1 million.
Reliability 
Tricounty strives to provide its members with the reliability of electric power they expect and deserve. We continue to build new line extensions, install new services, and rebuild older lines. Our tree-trimming and other maintenance programs help prevent power outages, and they reduce storm damage to our overhead lines. Over the next year, we will begin rebuilding the Maroe substation, located on the corner of state routes 109 and 18, in southern Henry County, at an estimated cost of $3.1 million. When it is completed, we are confident this new substation will increase reliability in the southern section of our territory.

Rates
The most difficult responsibility of your cooperative trustees and management is determination of the rates that we charge our members. One of our operating principles is to provide reliable electric service at affordable rates, while maintaining the cooperative as a financially secure business, now and into the future. We strive to keep our rates competitive while balancing ever-rising expenses and meeting financial targets required by our financial partners. The wholesale power cost is the single largest expense Tricounty has, accounting for more than 60% of our total expenses.
Substation material has increased 80% since 2021, the price of a large utility truck is nearly $500,000, and construction and maintenance costs continue to climb. These factors have made a rate adjustment a difficult but necessary decision. This will be effective with the billing you receive the first week of October, for September electric usage.
Many of you have read or heard that this past June 1, Toledo Edison and AEP increased the "generation only" portion they charge their customers by almost 6 cents per kWh. As a non-profit cooperative, Tricounty's necessary rate increase is a fraction of this amount, at 1 cent per kWh. The monthly facility charge will also increase by $2, from $31 to $33 per month. The rate adjustment and facility charge adjustment equate to approximately an 8% increase, or $12 per month for most members. We strive to be financially stable, operate with a high level of service, maintain our distribution system, and refund capital credits. Tricounty is still one of the lowest-costing electric cooperatives in Ohio. 
Safety
The safety of our members, employees, and community is a high priority for our cooperative. We have monthly safety meetings for employees, have performed high-voltage safety training for our local fire departments, and publish safety tips in Ohio Cooperative Living magazine. In 2023, we conducted our triannual recertification of the National Rural Electric Cooperative Association (NRECA) Rural Electric Safety Achievement Program (RESAP). Our goal is to keep all our members and communities aware of the dangers involved in dealing with electricity.  
Community
One of the Seven Cooperative Principles is Concern for Community. Tricounty is committed to supporting our community and future leaders. We offered high-schoolers a spot on the NRECA Youth Tour to Washington, D.C. This past May, we provided scholarship awards to seven high school seniors to help further their education.

Closing
Your cooperative has been committed to providing our members with safe, reliable, and affordable electricity for decades. We are excited about the upcoming projects, programs, and services designed to enhance the quality of life for our members.
We will continue to put safety first and are committed to providing excellent service to our members. Your board of trustees and employees appreciate and thank you for your cooperation and support throughout the past year.